HOLIDAY SCHEDULE FOR BLANCHARD AND PURCELL OFFICES

Week of Christmas, Monday 12/23 - Blanchard closed, Purcell open normal business hours
Tuesday 12/24 - Blanchard closed, Purcell open normal business hours
Wednesday 12/25 - Both offices closed
Thursday 12/26 - Both offices closed
Friday 12/27 - Blanchard closed, Purcell open normal business hours
Jeromy & Renee Landress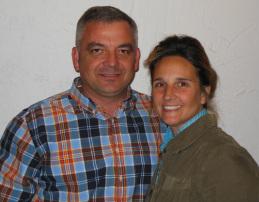 Highway 76 Sales, LLC is a family owned and operated business that has been established since 2005. Jeromy comes with over 25 years experience in the construction industry; specializing in residential custom homes, remodeling, industrial/commercial/residential concrete, pole barn building and excavation services. He is a third generation concrete contractor that has worked for companies such as Sonic Corporation, Hardees, Dooling Industries, Kelly Stark, Landmark Bank, and a list of other reputable companies.

Jeromy and Renee Landress made their home in Blanchard, OK in 2012 and moved their construction and storage solution business to this community.

Highway 76 Sales, LLC has two convenient locations: Highway 76 South between Blanchard and Dibble and also in Purcell, across the street from Wal-mart.

We are one of the industry's leaders in portable buildings. We are also one of the largest dealers in Oklahoma for Bradford Buildings and Eagle Carports.

We surpass our competition with the quality of our products and the service provided to each and every customer. We believe our customer is our best form of advertisement and know that you will tell your friends, family and neighbors about your experience. We want repeat customers! We know you expect to receive the best service in this industry and to be fully satisfied with your purchase.

We value our family time and make it a priority but if you are serious about one of our products, we will be glad to meet you after hours and assist you with your purchase. We want your next purchase to be at Highway 76 Sales, LLC. Feel free to drop by either of our sales locations anytime because all of our demo's are open. Check out the high quality craftsmanship and design of our structures and you will see we far exceed the competition.

In addition to the service you will receive from Highway 76 Sales, LLC, we also have a Lease Purchase program. What's better than having your own "mini-storage unit" in your backyard and at the end of the term, the building belongs to you? We offer easy financing terms with NO credit check on the majority of our products.
---
Hours of Operation:
Blanchard: Monday - Friday 8:30 a.m. - 4:00 p.m.
Purcell: Monday - Friday 9:00 a.m. - 5:00 p.m.
Closed All Major Holidays!
We accept All Major Credit Cards!
"Like" Us on Facebook